LEPBC served up two weekends of absolute exciting badminton with 2012 Junior Open taking place across four aged group from U-11 to U-17 culminating this weekend.
Last week, it was u13 and u17's happening while this past weekend it was u11 and u15 and there were some great matches keeping visitors entertained at the Lloyd Elsmore Badminton Halls.
The tournament saw massive representation from junior players all over Auckland and lived up to its reputation of being the top billed event across Auckland club badminton scene.
U-17 Age Group Champs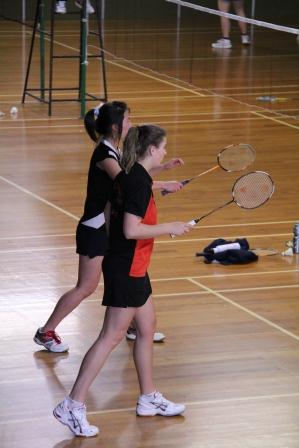 There were no major upsets in the U17 champs with top seed Ben Lie winning the Boys Singles and later on combining with LEPBC's very own Daniel Hillier to scoop the Boys Doubles title.
Ben Lie from North Harbour got the better of 2nd seed Daxxon Vong from College Rifles Badminton Club 21-19, 21-17 in two straight sets.
In the doubles section, Ben and Daniel had to put up with a stiff challenge from 2nd seeds David Lang and Kevin Zhang before the latter ran out of steam in the final set to emerge victorious 21-10,15-21,21-6 in three sets.
The Girls Singles title was won by 2nd seed Kaitlyn Mcleod of College Rifles defeating All Star club's top seed Rowena Devathasan in a keenly contested final coming back from a set down to win 10-21,21-15,21-12.
Kaitlyn later combined with LEPBC's Theresa Yeung to win her second title in the Girls Doubles defeating top seeds Rowena Devathasan and Deborah Yin in straight sets 21-13,21-17.
Rowena Devathasan finally lived up to her top seed billing putting two finals losses behind to win in the Mixed Doubles partnering Niccolo Tagle in defeating no 2 seeded Daniel Hillier and Rebecca Goddard 21-17,17-21,21-11 in three sets.
U-15 Age Group Champs
It was a case of 2nd seeds triumphing in the U15 champs with most titles going to second seeds with only one title won by top seeds.
2nd seed Alan Wong won the Boys Singles defeating top seed Ben Hillier in three sets 22-20,9-21,21-17. Ben was stretched to three sets in previous two games while Alan Wong had a pretty easy ride coming to the finals and this would have given Alan a bit extra confidence going into the final.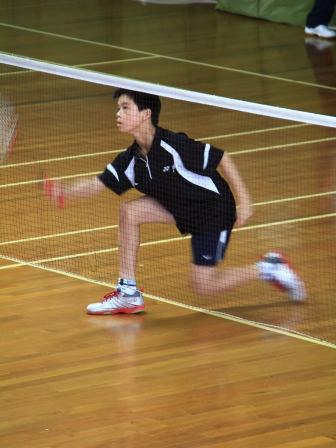 Ben and Alan combined later to win the Boys Doubles as top seeds in three close sets 21-19,12-21,21-19 against no 2 seeds Harrison Jin and Alex Qu
Girls Singles was won by 2nd seed Sally Fu in three sets 12-21,21-10,21-11 against unseeded Gaea Galvez. In the Girls Doubles, Virginia Guntur and Christine Zhang combined well to shock the no2 seeds Celine Shao and Selena Wu 21-15,21-9.
Virginia added a second title in the Mixed Doubles partnering Jack Ding to defeat Marcus Lin and Rebecca Fong in straight sets 21-14,21-14.
U-13 Age Group Champs
Some great matches again with the Boys Singles title won by Dacmen Vong who was in great form all through the champs getting rid of 2nd seed Oscar Guo in semis and then 3rd seed Edward Lau in the final in straight sets 21-17, 21-15. Edward had earlier defeated top seed Owen Wang in the semis but couldn't match up with Dacmen's intensity in the finals.
Dacmen later combined wtih Edward Lau as 2nd seeds to win the Boys Doubles as well getting rid of top seeds Oscar Guo and Owen Wang in straight sets 22-20,21-11. However, Oscar Guo finally had his revenge partnering Catelyn Mary Rozario in defeating Dacmen Vong and Tamara Otene 21-16, 21-9 and winning Mixed Doubles title.
Catelyn had triple success in winning the Girls Singles and Girls Double as well with Jacqueline Yu. She defeated Tamara Otene 21-12,21-14 in singles and Tamara and Polly P L Wong in doubles 21-19,21-15.
Tamara was unlucky to finish runners up in all three finals she played.
U-11 Age Group Champs
It was all as predicted in the U11 Champs with all top seeds winning the eventual titles.
Samuel Sun and Elvina Liu both had triple titles to boast off winning Singles, Doubles and Mixed events.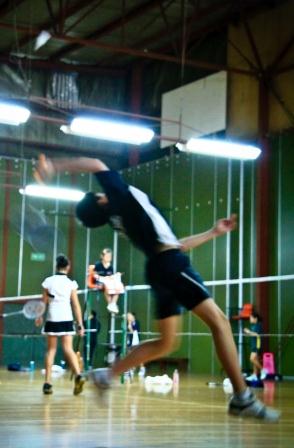 Samuel defeated Xiang Ze Chuay 15-9,15-6 in singles, then partnered Vincent Chen  and defeated Christian Cook and Julian Engelmann 15-2, 15-3 in one sided final. Later on he and Elvina won against Kevin Lin and Landy Zheng 21-8,21-10 in mixed.
Elvina had to put up a desperate fight to win against Shaunna Li in Girls Singles. She had to come from behind to eventually win 9-15,15-11,15-11 though it was smooth sailing in Girls Doubles as she and Janice Jiang won all there three round robin matches to emerge victorious.
Overall, it was a fantastic tournament with great involvement of friends and families of all players. Special mention goes to all the volunteers who put in a great effort in terms of time and energy behind the scenes to organize this many matches in a span of two days stretching from early morning to late night.
Not to forget the Junior Club President Robert Hillier for his leadership, Jack Ngametua from ABA who helped out specifically for the Junior champs and our ProShop team for their services to ensure smooth sailing all the way through.

There were raffles, spot prizes, games and finals prize ceremony to round off a fantastic 2012 LE Junior Open Champs.
Countdown starts for the 2012 LE Senior Open on 30th Sept now.
Lastly, the club would dearly like to thank our tournament sponsors all across the two days of events without their support it wouldn't have been possible:
Tonkin & Taylor, Lion Foundation, First Mart, Fresher Foods Ltd, A.D. Imagestation Co. and Crown Restaurant for their tangible and financial support.

Lone Star Manukau for their voucher giveaways

Red Bull for their awesome 'Mini' events team

TG Sports Center for badminton supplies
Tournament Sponsors/Supporters