EARLY HISTORY
LEPBC has a very proud history since 1977. It all started when the very successful Panmure Badminton Club was spreading its wings and more courts were needed to accommodate sufficient court times. The Panmure Young Citizens Centre couldn't offer much help and neither did the Auckland City Council or the Mt Wellington Borough Council.
This is the time when the 'Man for the Millennium' Eric G Whiteley fortunately met Councillor Barry Curtis who suggested applying for consent to build at Lloyd Elsmore Park under the Shared Responsibility Scheme (The Government subsidising the club dollar for dollar for 25% and the Manukau City Council providing the remaining 50% by way of an interest free loan for 17 years).
A building committee was formed with him as Chairman and a successful application was made on 03/12/74 subject to a suitable site being available and Council having the necessary funds.  Fund raising began and for seven years the Club investigated and tried every conceivable method known to mankind and some not known.
A proposal was received from the Chairman of Pakuranga United Rugby Football Club Inc. considering amalgamation thus building a Sports Complex. It was approved by our club on 25/04/77 foreseeing benefit to both parties with P.U.R.F.C. having access to LEPBC funds. As it was not possible for further assistance through Council, by a Joint Venture Application, Shared Responsibility Scheme can be utilised for a second time.  LEPBC benefitted from P.U.R.F. Club's already approved site with existing facilities and we would have the use of eleven courts as against four or six that we could have managed solo thus freeing up already limited financial resources. Joint fundraising eventually raised sufficient funds to start the project but Council funds dried up.  Wary of inflation and increasing interest rates, Council agreed to temporary finance from the banks and a Building Contract was signed on 30/5/80.
H.R.H. Prince Charles officially opened the Lloyd Elsmore Park on 28/03/81 while Sports Complex was opened by the then Mayor Sir Barry Curtin with an opening tournament for all Grades held from 25/03/81 to 04/04/81
Originally, senior membership was restricted to 200 members only with two strong Ladies Day Clubs and a third forming later. The Junior Club was extremely popular and had approximately 300 members along with a waiting list. Juniors ran three sessions on Monday and Wednesday between 4-10pm. Friday being used for Inter-Club Training and Coaching.
It's these dedicated efforts of LEPBC's volunteers, members and everyone involved over the years that we have this club so highly regarded and facilities second to none.
Here are the original Founding Five Life Members:
| | |
| --- | --- |
| Founding Life Members | |
| Clive Barnett | Club Captain, Foreman in charge of hall construction, Club Coach |
| Stancie Bruce | Ladies Club Captain, Organiser of Contract Work, Club Coach, Junior Coach |
| Eric Whiteley | Chairman/President 1974-1982, Club Coach, Junior Chairman, Junior Coach, A.B.A. Delegate and Coach |
| Ngaire Tate | Club, A.B.A., and N.Z.B.F. Secretary, Club Coach, Founder of the Junior Club, Junior Coach, A.B.A. Delegate and Coach |
| Gilbert Tate | Founder and Life Member of the Panmure Badminton Club, Club Coach, Junior Club Founder, A.B.A. Delegate, Junior Coach, A.B.A. Coach |
| Most Recent Life Members | |
| Christine Marks | Christine has given a lot of time and energy in promoting LEPBC over the years and her work is appreciated by all involved |
| Dave Story | Dave Story has been on the committee for 11 years, 5 as Treasurer and 3 as President and his wife, Althea, was secretary for 7 years |
| Paul Gardner | Treasurer for approx 7 years |
| Allan Murphy | President in excess of 5years |
Club Presidents
| | | | | | |
| --- | --- | --- | --- | --- | --- |
| Senior | | Junior | | Midweek | |
| Eric G Whiteley | 1974-82 | | | | |
| John Hicks | 1984-85 | | | | |
| Lorraine Rimmer | 1986-87 | | | | |
| Alan Carter | 1988-89 | | | | |
| Keith Roberts | 1990-91 | | | | |
| Mark Scarott | 1992 | | | | |
| Muray Thomas | 1994-95 | | | | |
| Dave Story | 1996-98 | | | | |
| Allan Murphy | 1999-2004 | | | | |
| Leon Wee | 2005 | | | | |
| Richard Phauv | 2006-10 | | | | |
| Swee Han Lim | 2011- | | | | |
Lastly, the co-operation from the P.U.R.F.C. and past chairman Mr Trevor King must be acknowledged and duly appreciated in making this partnership a success.
---
CLUB OPERATIONS
Following several years of reviewing our club structure, Lloyd Elsmore Park Badminton Club's constitution was re-written and re-structured in late 2011. LEPBC now have a governance board headed by President and Chairman, Robert Bryce. The Management committee is overall in-charge of club affairs while the Club Captains together with the Grading committee & Club Committee handles day to day badminton operations. There is a group of board duty members who schedule games on club nights according to a monthly roster.
At the operational level we have 3 hard working committees running our 3 divisions;
Midweek headed by Midweek President Gill Wild,
Juniors headed by Juniors President Robert Hiller,
Seniors headed by Senior President Swee Han Lim.
We are currently working on a variety of projects to ensure that the largest badminton club in Australasia once again becomes one of the leading force in badminton. Our progress in the last 6 months would not have been possible without a lot of hard work and support from some great volunteers and a very special thanks to all of them. LEPBC is looking forward to a fantastic 2012!
HOW GAMES ARE ORGANISED
Even though technology has taken over all aspects of our life, at LEPBC we still like to do things 'the simple way' using a whiteboard.
All players are allocated a magnetic name tag according to their grade with their choice of club nights (Members can only play max 2 out of 3 club nights
On club nights as the players come in, they will put their names on the board on mezzanine floor.
New members will be allocated an approximate Grade by Club Captains which will be adjusted during the month after player feedback from experienced club members.
Until the first game is organized, players can go to any court & warm up themselves.When the board system/games are ready the buzzer will go on. The buzzer indicates the start/end of each game session that is usually anything between 15-20 mins. The players follow the board to check for their next games for the rest of the night.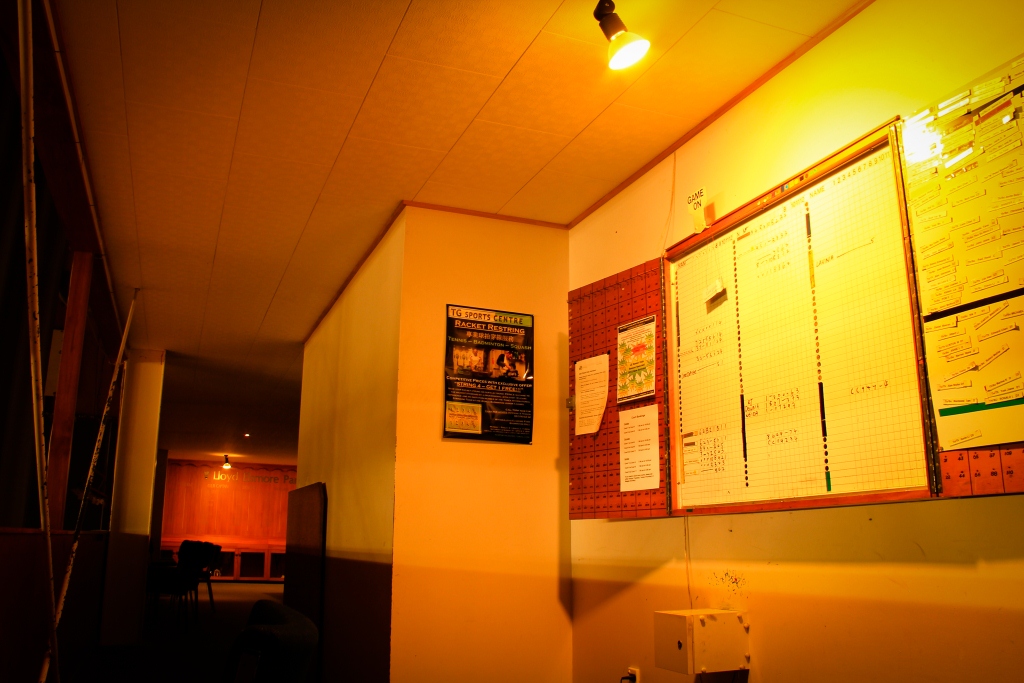 On average any player would get to play 5 games per night and games are arranged according to the ability/grade of individuals. Players will get to play with people who are just above & below their skill levels.
*IMPORTANT* As a general rule all players are expected to wear proper badminton clothes & non marking shoes.Besides that players must play in their allocated courts only and high standard of behavior & corporation is expected from members.
GRADING & ASSESSMENT
Club uses only doubles games for grading & assessment purposes. Grading is determined by either having a trial or by assessment by the grading committee specially to those who do not wish to partake in any trials or lower level players.
The Grading of players will be reviewed by the grading committee provided it receives complaints from members about the skill level of any players being lower than the allocated grade or any player not playing up to the allocated grade
Players also will be put on re assessment by trial if the committee requires them to do so.
The grading assessment trial results will always take priority over assessment and the assessment of the grading committee is final to players who do not wish to partake in any grade assessment trials.
All grade assessment trials will be using Rally point scoring  system to 21 with 2 clear points if 20 all & up to 30 max.
Grade assessment trial will be conducted generally by the club captain as per the following guidelines:
Generally grade assessment trials will be organized as & when necessary by the club captain. Trials will be organised asap when the time permits & according to the order it was received.
Only full members will be assessed by trials while casual members will generally be assessed without trial. Interclub players & regular competitive players will take priority &  irregular players may have to wait longer.
The grading of the players will/may be reassessed at the discretion of the grading committee, who turn up to the club nights after more than six months or more of non-play.
Ladder competition trial
This would be organised by the grading committee, when there are many players to be assessed;
or many players are in wrong grades;
or to obtain a ranking list
One off trial
This would be organised by the club captain in order to assess individuals for upgrade following below procedure:
The committee would approve group of players in each grade, who will be used in the trails to  play with the other players who are on assessment.
3 players from the above group for the proposed grade will be used for trial games.
A sets of 3 doubles games will be played by changing the partners within the players.
A player has to win 2 games or 1 game & overall points not less than 50 for a pass (In case of 15 points games 2 wins or 1 win & 37 points are needed for a pass)
Procedure for Grade upgrade one off trial
Carry out a self assessment .
If you pass the self assessment , handover the result for a formal trial.
If you pass you will be upgraded
How to organize the self assessment games?
If you are in the "approved group of trial players"of a grade you could assess yourself by playing with the"approved trial players"of the next grade up. If you pass, then handover the result to the club captain & request for a formal trial.
If you are not in the approved players group, you can assess yourself by playing  games with the approved players in your grade.  If you win 2 games  then you could do a self assessment against the players of the next grade up. If successful, handover your results to the club  captain & request for a formal grade upgrade trial.
If you happen to play with the approved players during a club night you could use the results.
You could request the board duty member to allocate a game with the players you chose, showing the self assessment form & your intention.  It has to be done without affecting the board duty & maximum 3 requests can be made for self assessment & 1 game per night.