The curtains came down on the 2012 LEPBC Open last week with some great badminton on show throughout the day. Despite the packed schedule and some tiring back to back games, the tournament successfully hosted some of the finest players in the country in its first full fledged competition year. The spectators witnessed some fantastic matches all through with most top seeds making it to the final rounds across most events.
In the A Grade womens singles, Lilian Shih validated her top billing by winning the RR group without being seriously challenged in any of the games.
In a dream men's A grade final between top seed James Eunson (pictured right) and second seed Sam Ho, James came back from a set down by fighting off some spirited challenge from Sam Ho to win in three tough sets 19-21,21-15,21-18.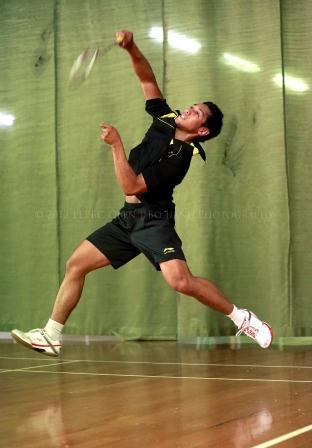 The A grade men's doubles final featured the two top seeds as well though the second seeds Tom Armstrong/Tony Griffen got the better off No1 pair of Sam Ho/James Eunson in straight sets 21-18,21-17.
Tom Armstrong and Lilian Shih further capped off a fine badminton evening by pocketing A grade mixed doubles title in defeating local favourites Tony Griffen/Maggie Chan in the final 21-18,21-16.
It was a fairytale journey in the B grade mens singles with the ever so humble No 4 seed teenager Alex Qu winning the final against unseeded Sam Lu in three demanding sets 21-18,20-22,21-17 surprising many on the route. The two finalists had earlier accounted for two of the top three seeds along the way to the final and it was an even match swinging one way or the other.
The B grade mens doubles was scooped by top seeds Ibrar Kissana/Surya Rao against unseeded Auckland junior rep'sYang Gao/Daxxon Vong. The experienced duo were pushed all the way but emerged victorious in the end.
A fine form all the way through helped Selena Wu triumph in the B Grade womens singles by winning the final against Celine Shao 23-21,21-16. The unseeded girl had earlier got the better off local favourite and top seed Jolly Ng in three sets in the semis.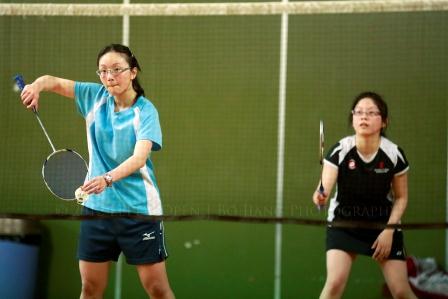 Women's B grade doubles went to LEPBC locals Wang sisters Ya-Ting and Ya-Wei (pictured left). In an all LEPBC final, the second seed 'Wangs' defeated Erin Chen/Teresa Hsu 24-22,21-18.

Wang Ya-Ting later combined with Jacky Chen to bag another title for LEPBC in the B grade mixed doubles by defeating Letisha Tan/Warren Parker to the delight of club supporters. 
The C grade competition laurels were shared between LEPBC and Counties Manukau. In men's singles Stephen Nota defeated local lad Frank Tsai 14-21,21-18,21-13 in a tough final and later combining with his counties partner Aiden Kersley to win the doubles as well in two sets 21-10,21-15.
Aiden also went on to win his second title for the day in partnering Anna Louise to defeat his doubles mate Stephen Nota/Eden Milliken in two straight sets 21-16,21-19.
The other two C titles went to LEPBC with top seed Teresa To winning the women's C grade singles by topping the RR group stage. She later combined with sister Pat To to win women's C grade doubles to prove their top billing in a RR group without dropping a match.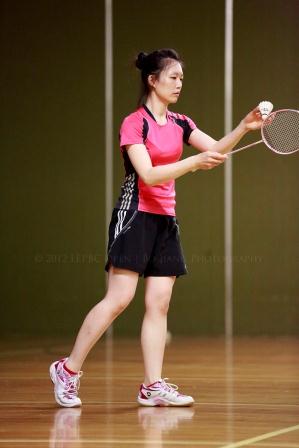 In the end, it was a fun day of badminton with close to 115 players turning up overall for all three grades and plenty of spectators to cheer them on. The evening came to a close fairly late around 8pm and LEPBC cant thank enough all players for their patience in being so accommodative with over 170 matches staged during the day in approx 10 hours.
The bar has been set this year and we can only do better from here. The quality of player entries received has been phenomenal this year especially within A grade and w
e hope to see you all next year with an even better organised tournament and more quality prizes.
Lastly, we cant help but thank everyone involved in hosting the tournament,


Thanks to all the volunteers who helped out in organising it- the umpires (Justin, Kai Lim,Phil,YaTing), the score helpers (Christine,Pat, Jane), the cafe team (Kimmy), the photographers (Bo), Trudi (raffles and fundraiser).. 

Thanks to all Auckland Junior rep coaches (Robbie Thackham, Tom Armstrong, Barry Stevens and Brent Miller) for facilitating their u17 juniors participation..
Thanks to Robert Hillier for encouraging club juniors to step up..
Thanks to ABA for promoting the tournament and Jack/Kevin with their late inputs..

And lastly to all you players for entering and participating who make it all the more worthwhile especially wider Auckland clubs and Northland ….

A special mention goes to all following good souls who supported 'Canteen' fundraiser by buying a bandana:

Lisa Luo Kristy Ng Lilian Shih Alex Qu Selena Wu Christine Woo Pat To Teresa To Alana McRobbie Daphnie Kevin Ng Sally Fu Robbie Thackam Robert Hillier Harrison Letisha Tan Annis Fu Kai Lim Aidan Kersley Jolly Ng Darren Lim Jane Huang Trudi Sullivan Sweehan Lim Yang gao

This directly helped raise NZ$108 from each purchase ($4) which would be donated to 'Canteen' to further support $200 LEPBC pledged to raise overall. 
Congratulations to all the winners across all grades.

In accordance with our prizes, we will be having the free club membership draw worth (NZ$210) this week from all received entries and lucky winner would be notified appropriately. Also, all B&C grade entries will go in the draw for RSL racquet as well and that would be posted here as well. 
In the meantime, do check out the fantastic tournament snaps getting uploaded on LEPBC Facebook FanPage here

Thanks to all our Sponsors,
-Bubbles courtesy of Foodstuffs NZ
-Trophies courtesy of Harts Accountants
-RSL racquet courtesy of RSL NZ
-Dine-In vouchers courtesy of LoneStar
-ProShop vouchers courtesy of TG Sports Centre
-Monetory support from Drivesure
On behalf of LEPBC Management